Volleyball Court Flooring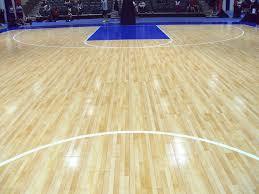 Volleyball Court Flooring
Product Description
Volleyball Court Flooring

Our firm is well known for offering a large range of Volleyball Court Flooring. The product e provide to our clients is quality approved and has long lasting life. Sports India receives accolades for offering the commendable installation services for Synthetic Flooring for Volleyball Court. Volleyball is a team sport in which two teams of six players are separated by a net. Each team tries to score points by grounding a ball on the other team's court under organized rules. The complete rules are extensive.
But simply, play proceeds as follows:A player on one of the teams begins a 'rally' by serving the ball (tossing or releasing it and then hitting it with a hand or arm), from behind the back boundary line of the court, over the net, and into the receiving team's court. The receiving team must not let the ball be grounded within their court. The team may touch the ball up to 3 times but individual players may not touch the ball twice consecutively. Typically, the first two touches are used to set up for an attack, an attempt to direct the ball back over the net in such a way that the serving team is unable to prevent it from being grounded in their court.
Dimension:
The game is played on a volleyball court 18 meters long and 9 meters wide, divided into two 9 m 9 m halves by a one-meter wide net placed so that the top of the net is 2.43 meters above the center of the court for men's competition, and 2.24 meters for women's competition (these heights are varied for veterans and junior competitions). There is a line 3 meters from and parallel to the net in each team court which is considered the "attack line". This 3 meter (or 10 feet) line divides the court into back row and front row areas (also back court and front court). These are in turn divided into 3 areas each, starting from area "1", which is the position of the serving player.
Use of Materials:
Rebound Ace / Unica: 3,5 and 8 Layers
Features:
Durable

Smooth surface

Have a consistent ball bounce
Contact Us
Gala No. 26, Ground Floor, Shree Ganesh Compound,, Near Krishna Compound, Purna - Village, Kalher,, Bhiwandi, Maharashtra, 421302, India
Phone :+918037401280