Tennis Court Flooring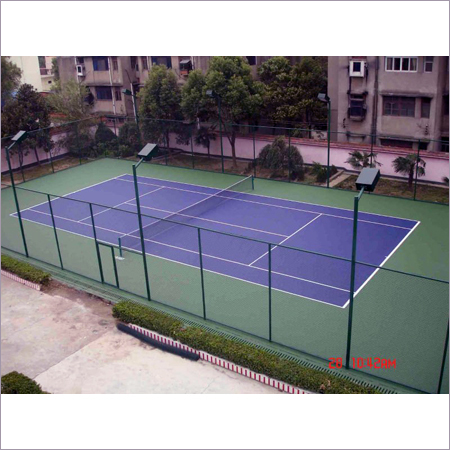 Tennis Court Flooring
Price And Quantity
100

Square Foot/Square Foots
Product Description
Our Synthetic Tennis Court Flooring is known in the market for offering a wide array of Synthetic Tennis Court Flooring. Our Synthetic Tennis Court Flooring is available in various sizes and used in various places. Tennis is a sport that people usually play individually against a single opponent (singles) or between two teams of two players each (doubles). Each player uses a racquet that is strung with cord to strike a hollow rubber ball covered with felt over or around a net and into the opponent's court. The object of the game is to play the ball in such a way that the opponent is not able to play a good return.
Features:
Fine finish
Strong construction
Dimensional accuracy
Dimension:
Tennis is played on a rectangular, flat surface, usually grass, clay, or a hard court of concrete and/or asphalt. The court is 78 feet (23.77 m) long, and its width is 27 feet (8.23 m) for singles matches and 36 ft (10.97 m) for doubles matches. Additional clear space around the court is required in order for player to reach overrun balls. A net is stretched across the full width of the court, parallel with the baselines, dividing it into two equal ends. The net is 3 feet 6 inches (1.07 m) high at the posts and 3 feet (91.4 cm) high in the center.
Use of Materials:
Rebound Ace / Unica : 3, 5 and 8 Layers
Contact Us
Gala No. 26, Ground Floor, Shree Ganesh Compound,, Near Krishna Compound, Purna - Village, Kalher,, Bhiwandi, Maharashtra, 421302, India
Phone :+918037401280