Synthetic Badminton Court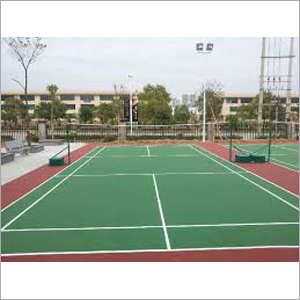 Synthetic Badminton Court
Price And Quantity
100

Square Foot/Square Foots
Product Description
We are reckoned in the market for offering a wide range of Synthetic Badminton Court Flooring. Manufacturing strong and reliable base is a must for the construction of a Synthetic Flooring for Badminton Court. The rebound Ace synthetic material can be applied on asphalt or concrete base. The court can be prepared in different cushion thicknesses depending on level of players and budget. We also provide chain link fencing, lighting and storm water system in the court.
Features :
Durability
Low maintenance
Reliable operation
Dimension:
The full width of the court is 6.1 meters (20 ft), and in singles this width is reduced to 5.18 meters (17 ft). The full length of the court is 13.4 meters (44 ft). The service courts are marked by a centre line dividing the width of the court, by a short service line at a distance of 1.98 meters (6.5 ft) from the net, and by the outer side and back boundaries. In doubles, the service court is also marked by a long service line, which is 0.78 meters (2 ft 6 inch) from the back boundary. The net is 1.55 meters (5 ft 1 inch) high at the edges and 1.524 meters (5 ft) high in the center. The net posts are placed over the doubles side lines, even when singles is played.
There is no mention in the Laws of badminton, of a minimum height for the ceiling above the court. Nonetheless, a badminton court will not be suitable if the ceiling is likely to be hit on a high serve.
Use of Materials:
Rebound Ace / Unica: 3,5 and 8 Layers
Contact Us
Gala No. 26, Ground Floor, Shree Ganesh Compound,, Near Krishna Compound, Purna - Village, Kalher,, Bhiwandi, Maharashtra, 421302, India
Phone :+918037401280