Badminton Court Wooden Flooring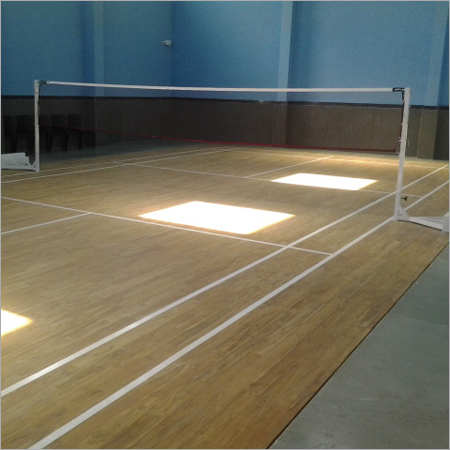 Badminton Court Wooden Flooring
Product Description
We are known in the market for offering a wide range of Badminton Court Wooden Flooring. The product we provide is widely known for their best quality. After completion of the civil works, we undertake to lay out the Wooden Flooring For Badminton Court system wherein we use Kiln seasoned Imported Oak, Teak, Maple , Beech wood and Burma Teak, Indian Teak Surface Board and the Base Frame of Imported Fir, Spruce, Pine and sal wood. The Bona /LOBA Anti-Skid Polish coatings used is DIN certified. We also undertake civil construction and lighting requirements. All other accessories related to the arena are also available with us. Badminton is a racket sport played by either two opposing players (singles) or two opposing pairs (doubles), who take positions on opposite halves of a rectangular court divided by a net. Players score points by striking a shuttlecock with their racket so that it passes over the net and lands in their opponents' half of the court. Each side may only strike the shuttlecock once before it passes over the net. A rally ends once the shuttlecock has struck the floor, or if a fault has been called by either the umpire or service judge or, in their absence, the offending player, at any time during the rally. The shuttlecock (or shuttle) is a feathered (or, mainly in noncompetitive games, plastic) projectile whose unique aerodynamic properties cause it to fly differently than the balls used in most racket sports; in particular, the feathers create much higher drag, causing the shuttlecock to decelerate more rapidly than a ball. Shuttlecocks have a much higher top speed, when compared to other racket sports. Because shuttlecock flight is affected by wind, competitive badminton is played indoors. Badminton is also played outdoors as a casual recreational activity, often as a garden or beach game.
Features:
High quality
Durable
Cost effective
Dimension:

The full width of the court is 6.1 meters (20 ft), and in singles this width is reduced to 5.18 meters (17 ft).
The full length of the court is 13.4 meters (44 ft).
The service courts are marked by a centre line dividing the width of the court, by a short service line at a distance of 1.98 meters (6.5 ft) from the net, and by the outer side and back boundaries.
In doubles, the service court is also marked by a long service line, which is 0.78 meters (2 ft 6 inch) from the back boundary.
The net is 1.55 meters (5 ft 1 inch) high at the edges and 1.524 meters (5 ft) high in the center.
The net posts are placed over the doubles side lines, even when singles is played.
There is no mention in the Laws of badminton, of a minimum height for the ceiling above the court.
Nonetheless, a badminton court will not be suitable if the ceiling is likely to be hit on a high serve.
Contact Us
Gala No. 26, Ground Floor, Shree Ganesh Compound,, Near Krishna Compound, Purna - Village, Kalher,, Bhiwandi, Maharashtra, 421302, India
Phone :+918037401280